INSIGHT
Asset management – It's the journey, not the destination
SUMMARY
Just getting started with asset management? Join us to get a basic overview of the purpose, fundamental principles, best practices and how to use asset management for informed decision making. We will also show examples of case studies for future discussion in upcoming webinars.
KEY TOPICS
What is asset management?
Why perform asset management?
How can asset management influence decision making?
Examples of case studies
Overview of next steps
ABOUT THE SPEAKER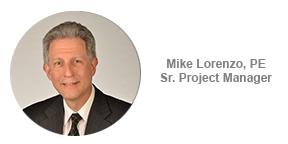 Mike is a senior project manager for Bartlett & West, Inc. and leads the company's collection systems department in the planning and design for projects related to combined sewers, storm sewers and sanitary sewers. He is also a leader in Bartlett & West's asset management services department. The department has developed web-based products to link collection system and other asset information to geographic information systems (GIS) and our custom CMMS (computerized maintenance management system) program. Mike has 40 years of experience in facility planning and design of collection systems for municipalities of all sizes, municipal wastewater treatment facilities and peak wet-weather flow facilities.
RECORDING DURATION: 35 minutes
REGISTER FOR THE WEBINAR
Tell us about your project
We'd love to work with you. Tell us the services you are seeking and one of our team members will connect with you.