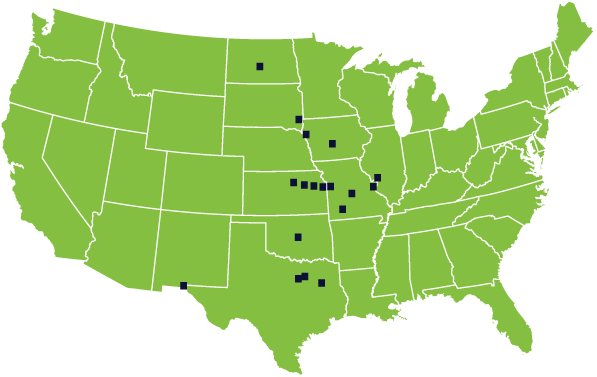 Office Locations
Leading our communities to a better tomorrow.
Serving others through caring for our clients, our community and each other. We have offices spread across in eight states and staff ready to talk with you. Get in touch!
Our Topeka, Kansas Headquarters
Bartlett & West has been headquartered in Topeka since the company's inception in 1951. Our early success grew from working on a portion of the Kansas Turnpike and designing Kansas' first rural water system… and grew from there.
1200 SW Executive Drive Topeka, KS 66615
(888) 200-6464
Contact Us
1207 Sinclair Drive, Suite 2
Jerseyville, IL 62052
6500 University Avenue, Suite 100
Windsor Heights, IA 50324
600 4th Street, Suite 301
Sioux City, IA 51101
544 Columbia Drive
Lawrence, KS 66049
230 Poyntz Avenue
Manhattan, KS 66502
10895 Grandview Drive, Suite 110
Corporate Woods Bld 24
Overland Park, KS 66210
601 Monroe Street, Suite 201
Jefferson City, MO 65101
800 E 101st Terrace,
Suite 350
Kansas City, MO 64131
1824 S. Lone Pine Ave., Suite F
Springfield, MO 65804
10733 Sunset Office Dr., Suite 220
Sunset Hills, MO 63127
3456 E. Century Avenue
Bismarck, ND 58503
1000 W. Wilshire Blvd., Suite 302
Oklahoma City, OK 73116
Sioux Falls, South Dakota
2921 E. 57th Street
Sioux Falls, SD 57108
Civil Associates, Inc.
(A Bartlett & West Company)
9330 Lyndon B. Johnson Fwy.,
Suite 1150
Dallas, TX 75243
Civil Associates, Inc.
(A Bartlett & West Company)
4110 Rio Bravo, Suite 215
El Paso, TX 79902
4500 Mercantile Plaza, Suite 301
Fort Worth, TX 76137
613 Shelley Park Plaza
Tyler, TX 75701
Connect with us
Are you interested in receiving news and updates from Bartlett & West? Connect with us and get added to our company e-newsletter and other communications.