Tuesday, November 18, 2014
Roundabout to Ease Traffic Congestion
BISMARCK, N.D. — By LeAnn Eckroth, the Bismarck Tribune - Burleigh County will mull a third roundabout project for the Bismarck area within the next 18 months.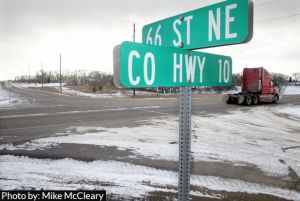 County Engineer Marcus Hall told the county commission Monday that Bartlett & West is the firm favored to resolve traffic congestion at the intersection of Highway 10 and 66th Street.
Nine consultants submitted proposals to the county engineer's office and three finalists were interviewed Monday, he said. No commission action was taken on hiring the firm.
Hall is negotiating consulting fees with Bartlett & West. The firm's contract might be approved at a future commission meeting.
The consultant hired will outline the scope of the traffic project, design it and oversee its construction once the project is awarded, according to Hall. "We're leaving all options on the table. It could be a stop light, enhanced turn lanes or a roundabout."
"(That intersection) has a terrible left turn problem," Hall said. "As a bedroom community, it has a lot more a.m. and p.m. traffic." He added traffic control will be needed more at 66th Street when it becomes part of larger beltway.
County engineering staff said they are leaning toward using a roundabout project at the Highway 10/66th Street intersection, but await the findings of the consulting firm hired.
Hall said a roundabout could be a good tool in heavy and light traffic patterns although they are rare in North Dakota. He explained that cars wouldn't have to wait for a signal light to change when there isn't oncoming traffic and roundabouts would be safer when traffic is thick.
Dan Schriock, senior assistant county engineer, said using roundabouts would result in less "T-bone crashes" than in regular intersections because vehicles' contact is less direct at the intersection. He said 80 percent Highway 10 and 66th Street project would be paid by federal funds and 20 percent by the county.
Schriock said the project could be bid out through the state Department of Transportation in November 2015 and completed in the 2016 construction season.
Lincoln

Two roundabouts were also pitched by county engineer staff at the Nov. 6 Lincoln City Council meeting for Lincoln Road. They would be located at 66th and 52nd streets. These may be built in the 2015 construction season if the county finds enough funding, Schriock said. They would be bid out through the county together and built about the same time, Schriock said.
A majority of the two roundabouts could be paid for with county and legislative funds.
Each of the three roundabouts is estimated to cost about $1 million.
The three traffic projects are being considered because of the high volume of Lincoln commuters who leave that city to work in Bismarck or Mandan in the morning. Traffic counts also have increased since Lincoln opened its first school.
Hall said public information meetings would be held to explain how the roundabouts work to a driving public that has not used them. "We're getting a lot more traffic and you've got to be a lot more creative with the traffic," he said. "North Dakota is behind on its use of roundabouts."
Original article can be viewed here.