Monday, February 16, 2015
Bartlett & West Recognized for Engineering Excellence
JEFFERSON CITY, MO - The American Council of Engineering Companies of Missouri (ACEC/MO) awarded Bartlett & West two 2015 Engineering Excellence Awards in recognition of quality engineering achievements. These awards were given for a LiDAR survey project and the Tanner Bridge/Route B pump station and sanitary sewer extension project.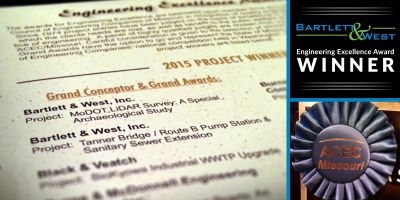 For the LiDAR project, Bartlett & West aided the Missouri Department of Transportation with identification of prehistoric rock carvings in order to preserve the information for future generations. Bartlett & West used its 3D-scanning technology, called LiDAR, to obtain these images and process them with a precision that allowed MoDOT archaeologists to document this history without disturbing the site. The information was delivered in a manner that could be shared with other archaeologists and future generations. Bartlett & West is one of the few firms in the region with this LiDAR technology.
The pump station and sanitary sewer system project was for the City of Jefferson and will allow for future residential and commercial development in the southern portion of the city. Bartlett & West provided innovative solutions that meet the current demand and allow for a significant increase in demand as the area grows. The engineering firm served the City's need by providing options that kept costs low, allowed a greater number of contractors to submit bids and ultimately came in under budget for the overall project while completing work ahead of schedule.
As growth occurs it will be easy for the City to change out pumps to accommodate the needs of residents and businesses with minimal expense and downtime because the design includes two forcemain pipes in the same trench that can be utilized flexibly as flows increase in the future. The City is now experiencing interest from developers for this area based on this new system.