Bartlett & West's 'Pea-can Pie' Sculpture Wins Canstruction Competition
TOPEKA – The team from Bartlett & West won Juror's Favorite and Best Use of Labels at the Harvesters Community Food Network's 2014 Canstruction competition.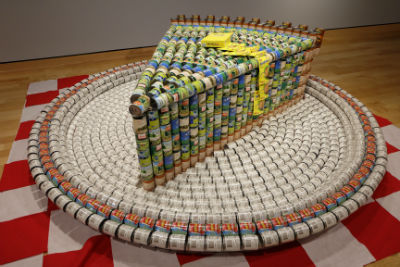 The event, held at the Mulvane Art Museum on the Washburn University campus in Topeka, Kan., consisted of huge sculptures constructed of canned and nonperishable food items. After the exhibit close, all items are donated to Harvesters to provide meals to the hungry.
The Bartlett & West team, led by Cory Schoffelman, built the winning sculpture entitled "Slice of Pea-Can Pie" by using nearly 3,000 food items – most of which were cans of peas.
However, landing on the pie idea was no piece of cake. "Without a doubt determining what we were going to build was the toughest part. It changed from week to week, and sometimes from day to day," said Schoffelman.
Yet he added, "That might have been my favorite part too – determining what to build."
Schoffelman explained that the idea of building a slice of pie had been on the table for some time, along with a dozen other ideas. Finally the team was getting close to the deadline for deciding on an idea when the name was thought up, "Slice of Pea-Can Pie." From there it was a domino effect of tweaking details, Schoffelman said.
The Bartlett & West team ultimately spent about three and a half month planning for the competition. The team used a 3-D design and modeling program called AutoCAD to draw up plans for their structure. This allowed them know how many cans they needed and how to construct it.
Bartlett & West donated the funds to purchase the food items for the company team's entry. Additionally Emcon Inc., an excavating company, and Cretex Concrete Products Midwest each contributed $250 donations toward the team's entry.
In total, this year's five Canstruction teams used more than 12,000 cans of food and will provide more than 8,900 meals to the hungry, according to a Harvesters news release.
About Harvesters: The Community Food Network. Serving a 26-county area of northwestern Missouri and northeastern Kansas, Harvesters provides food and related household products to more than 620 not-for-profit agencies such as emergency food pantries, soup kitchens, homeless shelters and children's homes. The network provides food assistance to approximately 66,000 different people each week. Harvesters, which was founded in 1979, is a certified member of Feeding America, a nationwide network of more than 200 food banks serving all 50 states. For more information, visit harvesters.org
About Canstruction: Canstruction® was founded in 1992 by the Society of Design Administration, an affiliate organization of the American Institute of Architects. The organization's primary goal is to "construct" a world without hunger. Canstruction events are held in more than 100 cities across North America.