City Booster Station Project Receives Award Recognition
RAPID CITY, SD - The North Rapid Booster Station Project has been awarded the 2016 Outstanding Engineering Achievement Award by the Eastern Chapter of South Dakota Engineering Society.
The project was one of two projects awarded February 25 in Sioux Falls. Bartlett & West, Inc. of Sioux Falls, the engineering firm on the project, accepted the award.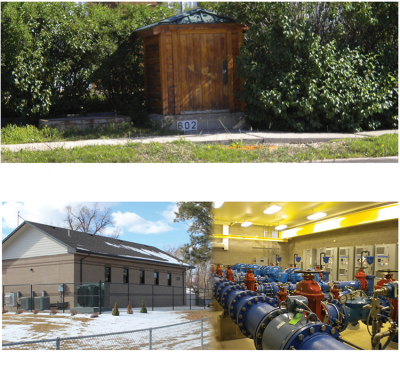 The new North Rapid Booster Station, located at the northwest corner of College Park, provides potable water to a large section of north Rapid City and was completed in 2016 to replace the former outdated station that was constructed in 1961. The former station was contained in a small, wooden facility along Anamosa Street. The former station had exceeded its design life and was a pit type station with poor physical access and restricted clearance and maintenance access. In addition, with increased development in north Rapid City, a new station was needed for expanded user capacity.

The award recognizes Bartlett & West, along with Sperlich Consulting, Inc. of Rapid City, for the new station's functionality, energy efficiency, economy and minimal maintenance requirements while providing pleasing aesthetics. Treanor Architects, which an office in Rapid City, was also part of the project team.

"The new booster station was needed from a variety of perspectives, including expanded capacity with upgraded equipment to serve the needs of the area, ease of access and maintenance and functionality," said City Project Engineer Morgan Falcone. "In addition, the station in its new location, is secure and does not take away from the beauty of College Park."

Brian Hoellein of Bartlett & West thanked a number of Rapid City firms and individuals for their partnership in the project. "This award is a deserving recognition of the work of numerous partners including the City of Rapid City and their staff and local companies including RCS Construction, Advanced Electric and Action Mechanical. This was an important project for the City and its residents."

A Sioux Falls project also received the award from the Eastern Chapter. The award is established to acknowledge the accomplishments of the engineering profession and projects contributing to a human or social need such as buildings and dams, a significant process, a contribution toward an engineering problem and/or industrial research and development are eligible. Each year the Eastern Chapter of SDES recognizes engineering achievements that have captured the innovative and dynamic spirit of a profession dedicated to public service.

Four statewide projects will be reviewed for state award recognition at the South Dakota Engineering Society state conference in Spearfish April 26-28.