Monday, February 13, 2017
Downtown Topeka Project Receives Engineering Awards
TOPEKA, KS - The revitalization of the main avenue through downtown Topeka, Kan. (Kansas Avenue, from SW 6th to SW 10th Avenues) has earned multiple awards for leading partner Bartlett & West:
"Outstanding Engineering Achievement" from the Topeka chapter of the Kansas Society of Professional Engineer
"City Public Improvement Over 50,000 Population" from the American Council of Engineering Companies of Kansas
"Downtown Private Sector Enhancement Project" from the Associated General Contractors of Kansas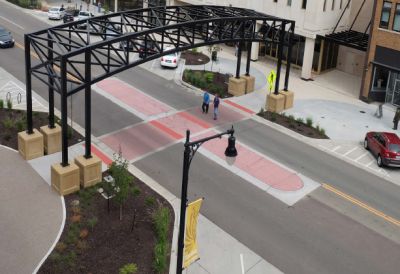 The Kansas Avenue project began with a grass-roots effort to revitalize downtown and attract more visitors to the heart of Kansas' capital city. Narrowing streets and adding "pocket parks" effectively slowed traffic and created space for pedestrian activity and entertainment. Infrastructure improvements included sidewalk and storm sewer replacement. At various project stages, Bartlett & West helped the City of Topeka gather public input and plan for mid-project traffic flow.

Private donations through the Downtown Topeka Foundation helped fund the parks and other aesthetic improvements. This complex and detailed project was the largest such public-private partnership in recent history for the City of Topeka. Upon completion, residents were excited to celebrate a long-awaited renovation for the heart of their city.