How New Workstations are Improving Employees' Health
Bismarck, N.D. – Many jobs require sitting at a desk, typing on a computer for hours at a time. However all of that sitting could be costing employees their health.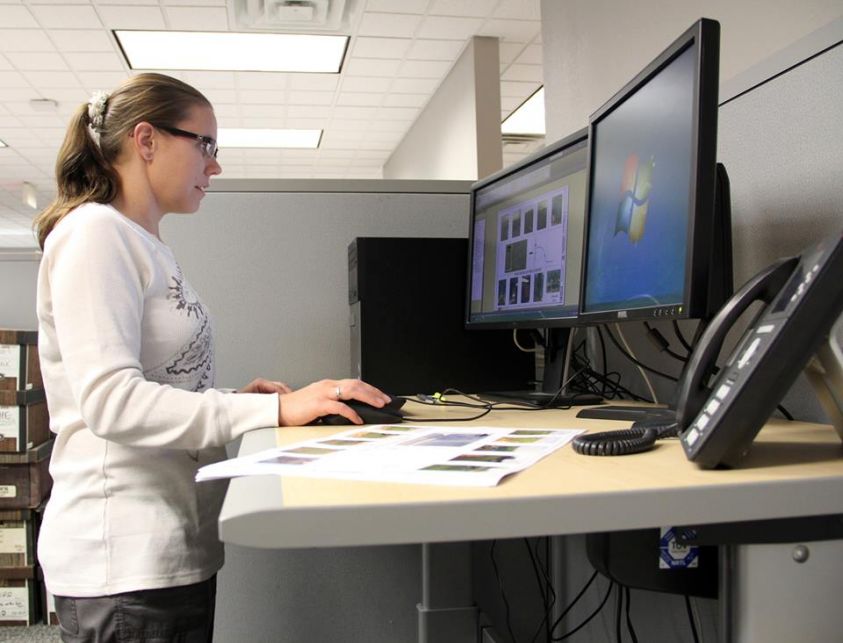 A study published by epidemiologist Steven Blair, a professor of public health at the University of South Carolina, cites that men who reported more than 23 hours a week of sedentary activity had a 64 percent greater risk of dying from heart disease than those who reported less an 11 hours of sedentary activity. Blair stated in an NPR article that scientists are just beginning to learn about the risk posed by a mostly sedentary day. "If you're sitting, your muscles are not contracting, perhaps except to type. But the big muscles, like in your legs and back, are sitting there pretty quietly," Blair said.
Bismarck office manager of the engineering firm Bartlett & West Teresa Chrest wanted to see if there was a solution that could offer more health benefits to the company's employee owners who spend most of their days at a desk.
"The idea of finding a desk that would allow our office staff to get the benefits of more physical activity originated for me from a session I attended on workforce ergonomics," Teresa said. "So we started looking for workstations that would allow our employee owners to use their computers from sitting or standing positions with the intent to integrate that solution into our upcoming office expansion."
First Bartlett & West tested out a cubicle hydraulic system that would raise or lower the desktop. The response from employees was so positive that another model was found that could be integrated into the existing workstations right away.
"We've already had 11 people try out the station to see if they like it. Several have opted to have the unit permanently installed at their desk," said Chrest.
Tami Olson, of Bartlett & West, has been using one of those adjustable-height workstation for several months and said she averages about 1,000 to 2,000 more steps a day on her Fitbit since she started using it. "I seem to go home with more energy, maybe because I keep moving more," she said.
Chrest said, "To me, the workstations are yet another example of Bartlett & West's commitment to the health of the company's employee owners and our flexible work environment.