Two major donors to the University of Mary's School of Engineering visit site
BISMARCK, ND — Bartlett & West, a nationally ranked, multi-disciplined engineering firm with 18 offices located throughout the Midwest, and Mountain Plains LLC, a diverse North Dakota-based electrical consulting, engineering and land surveying company, announced they are making significant financial contributions to University of Mary's new School of Engineering.
With the generous financial support of these two respected companies, the University of Mary plans to break ground next spring on its new, high tech engineering facility by repurposing the former North Dining Hall on campus.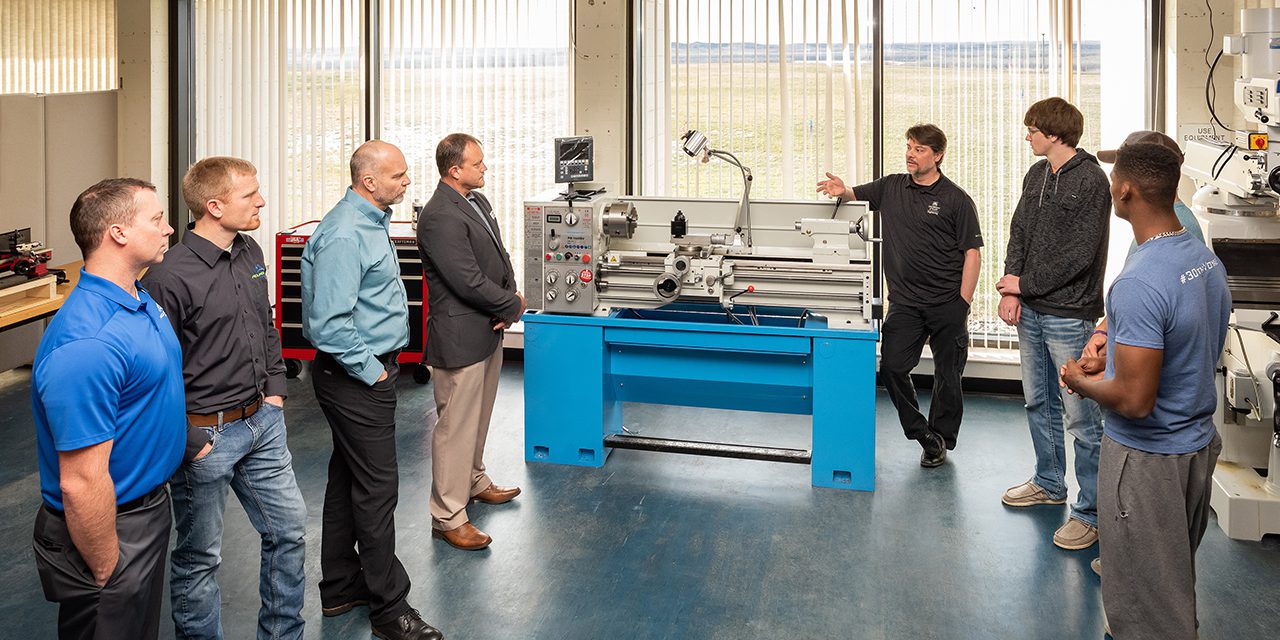 Also today, Bartlett & West, and Mountain Plains LLC, met with University of Mary faculty to go over architectural plans for this new cutting-edge facility. The companies also gathered input, and interacted and exchanged ideas with students about some of their desires, needs and trends in an ever-changing engineering environment.
Since 1981, Bartlett & West has held an office in Bismarck and currently employs approximately 70 professionals skilled in civil and mechanical engineering, architecture, land surveying, ROW acquisition and GIS.
"For more than 30 years, Bartlett & West has been a supporter of the Bismarck-Mandan community with a strong focus on STEM (Science, Technology, Engineering and Math) education activities," said Jame Todd, P.E., Bartlett & West market leader."We are therefore excited to support University of Mary in the development of their school of engineering. We know, being a local engineering firm, we will see the direct benefits of having access to an internship/Co-Op program and ultimately a supply of highly-qualified graduates to fill various engineering positions."
Mountain Plains founder and CEO, Tony Wood, an Idaho native and resident of Watford City, is a University of Mary alumnus. He's learned from some of the best area business leaders as a winner of the school's annual Entrepreneur Fair (E-Fair) competition. Wood is also a former track athlete for the Marauders, and the 2017 recipient the Harold Schafer Alumni Leadership Award for his distinguished achievements as a servant leader at the regional, national and international level.
Wood believes in his alma mater's mission and knows first-hand how critical the University of May's intellectual capital is to the engineering community and the vibrancy of North Dakota as a whole.
That's why world-class engineering instruction continues full speed ahead in its third year of existence at Mary with nearly 100 students, creative and makeshift classrooms, and labs on campus. While the facility has yet to be built, Mary's engineering students are already setting high standards — first in the classroom, then becoming highly sought-after for internships and future employment from highly reputable companies similar to Bartlett & West and Mountain Plains.
To learn more about the University of Mary's engineering program go to www.umary.edu/engineering.