Project Detail
Okmulgee secures infrastructure grant for industrial park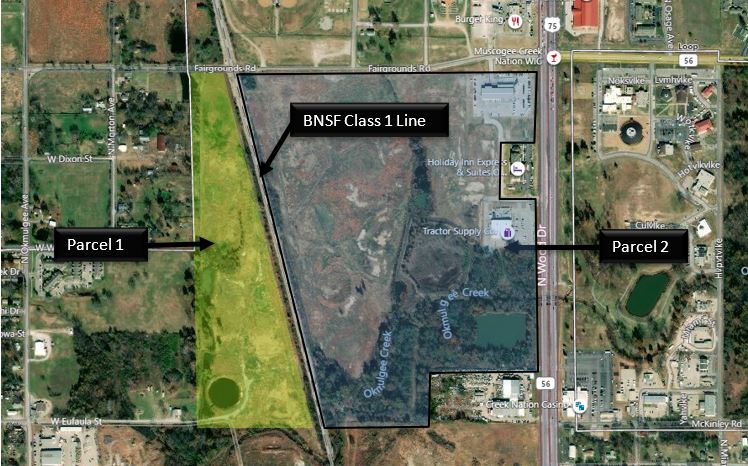 Challenge
In 1997, the Okmulgee Area Development Corporation (OADC) received title to 210 acres of land formerly occupied by an oil refinery first built. The refinery was no longer producing but left behind a sprawling complex of buildings, tanks, lagoons and oil-contaminated ground. The site underwent years of cleanup and restoration to remove the structures and remediate the soil, which resulted in a national 2013 EPA Phoenix Award. The OADC dreamed of how to reuse the 47-acre business complex site, which is sandwiched between a BNSF rail spur and Highway 75. The now certified "Brownfield" sits as an empty grass field with a stream passing through. The vision for this property is to develop it into an industrial park to attract new business to the City of Okmulgee.
Solution
The OADC hired Bartlett & West to prepare concepts, compile cost estimates and help write the application for an Economic Development Authority (EDA) grant for infrastructure improvements. Within the park, improvements will include new streets, water and sewer extensions and storm water collection and detention. The Muscogee Tribe of Oklahoma also is helping to advance this project's success by building a half mile of three-lane arterial street on the Fairgrounds Rd. bordering the site to the north.
Value
Okmulgee is an Economic Opportunity Zone, and the project is anticipated to bring in good quality manufacturing jobs. Therefore, the EDA has qualified the project for funding with an 80/20 grant match. This will improve the local economy and provide opportunity for businesses to locate in the park and will attract workers and families from the surrounding region to work and live in Okmulgee.
Tell us about your project
We'd love to work with you. Tell us the services you are seeking and one of our team members will connect with you.