Bartlett & West Again Named Among Top National Firms
TOPEKA, KS — Bartlett & West is proud to announce that the company has again been named one of the nation's Top 500 Design Firms by Engineering News-Record (ENR).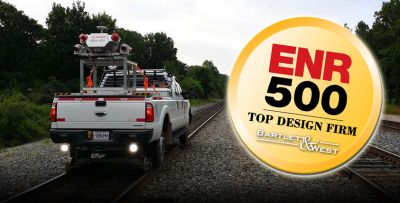 Each year ENR ranks U.S. engineering, architecture and contracting firms based on the previous year's revenue dollar volume, and historically Bartlett & West has been included in the closely-watched list. This year's ENR rankings recognize Bartlett & West as the 169th largest firm in the country, a continuation of the company's six-year climb on the list.
"Bartlett & West continues to be in an exciting time of growth—as reflected by the continued climb of our ENR ranking," said company president Keith Warta. "That success is thanks to the hard work of Bartlett & West's employee-owners, our ability to leverage technology and focus in on strong market opportunities, and our valued relationships with our clients and the communities we serve."
Bartlett & West, headquartered in Topeka since 1951, has 14 offices in 10 states. The firm provides engineering, technology solutions and other professional services to a wide range of clients. The Topeka office employs 249 area people and serves local and regional municipalities, water districts, rail companies, land developers, architects, private industry and other clients.